Interactive Video Installation
4K Video Projection
Exit is an interactive video installation including the visitor. The projection shows a closed glass sliding door. A video camera, barely visible above the projection, films the viewer in front of the projection and feeds these live video images of the exhibition area into the glass panes of the projection as a virtual mirror image. Simoultaneously the observer approaches the projection, the glass sliding door within the video opens and allows a view of the other side of the passageway.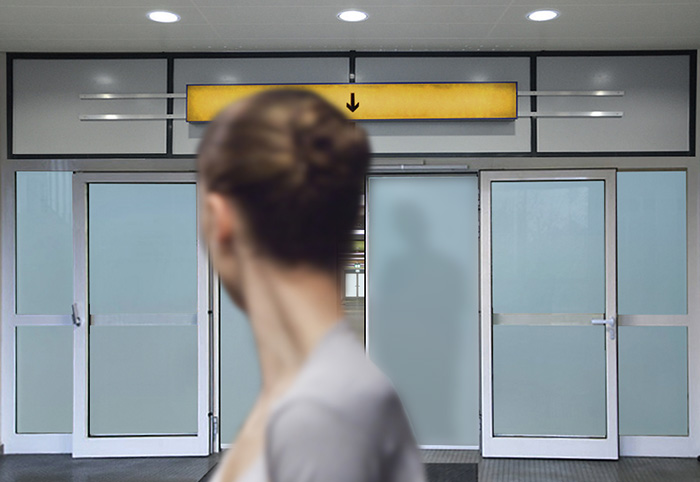 The viewer becomes part of the video and sees him/herself in projection. He/she can physically open the sliding door through a motion detection sensor in the exhibition room. The viewer sees him or herself as a silhouette on the reflective surface of the glass panes. A passage through the virtual glass- passage is not possible. The viewer remains on the surface and the door closes automatically after a few moments and the passage is denied. The observer just remains as a reflection on the glass. Viewers in front of the projection thus become the central element of this artistic work and the actual object and subject of the projection.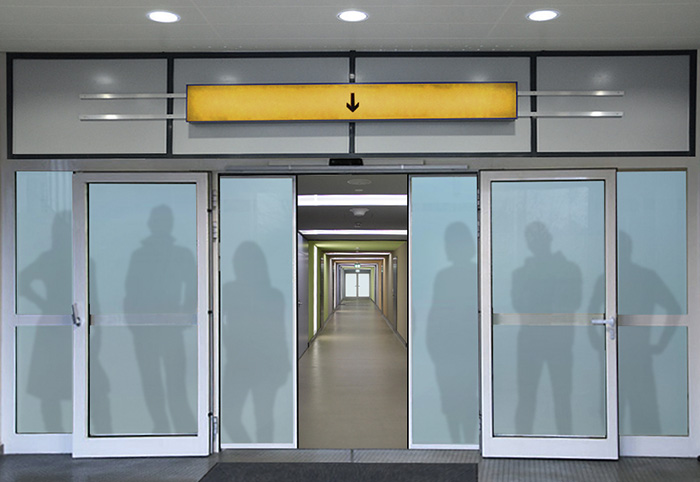 Die Projektion zeigt ein geschlossene Glasschiebetüre. Eine Videokamera, die kaum erkennbar über der Projektion angebracht ist, filmt die Besucher und Besucherinnen vor der Projektion und speist dieses Live-Videobild des Ausstellungsbereichs als virtuelle Spiegelung oder Schatten in die projizierte Glasscheiben ein. Gleichzeitig öffnet sich durch Annäherung der Betrachterinnen und Betrachter an die Projektion die Schiebetür im Video und gestattet einen Blick auf die andere Seite des Durchgangs. Der Betrachter, die Betrachterin werden Teil des Videos. Sie sehen sich selbst in der Projektion und können physisch durch einen Bewegungsmelder im Ausstellungsraum die Schiebetüre öffnen.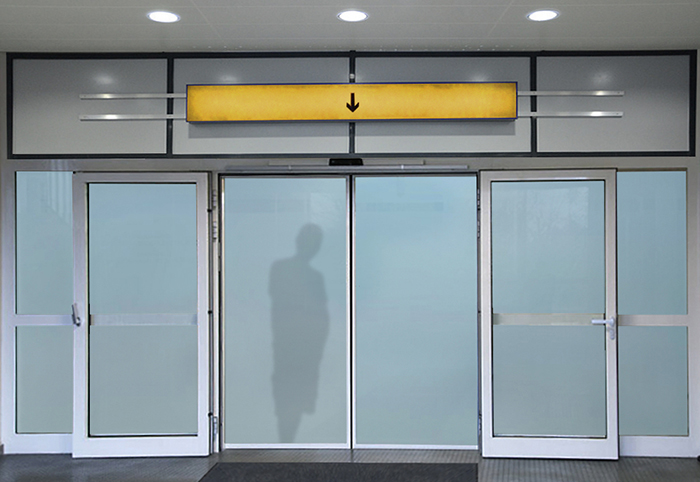 Die Besucher sehen sich somit selbst als Schattenbild auf der reflektierenden Oberfläche der Glasscheiben. Ein Durchschreiten des Durchgangs ist jedoch nicht möglich. Die Betrachter bleiben an der Oberfläche und die Türe schließt sich nach einigen Augenblicken wieder von selbst. Das Durchschreiten wird somit verwehrt und übrig bleiben bloß die Betrachter selbst als Spiegelung an der Oberfläche der Glasfront. Die Menschen vor der Projektion werden somit zu zentralen Element dieser Arbeit.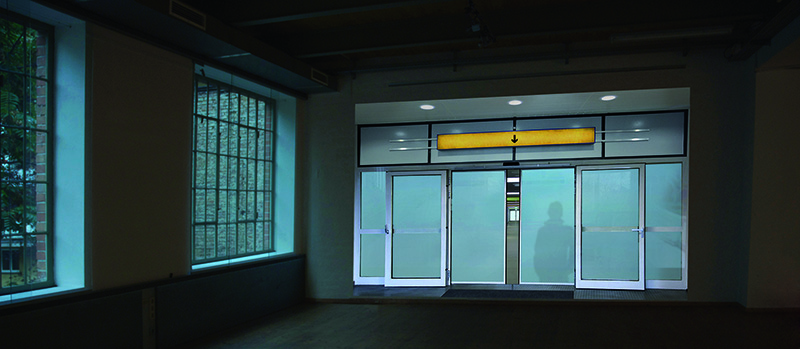 auzinger
Exhibition Destinesia Series Virtual Show Destinesia condenses image information by means of montages and [...]