The light box sculpture Optical Density (and layers of reality relating to the truth) is an homage to the Austrian experimental and Avant-garde filmmaker Ernst Schmidt Junior. It is made of two layers, a transparent picture layer and a text layer in the background. The text, an extract from Schmidt's work about truth in news and film, is partially overlayed by frames from the image layer. The images are excerpts from a documentation of VALIE EXPORT's 1969 performance with Peter Weibel Aus der Mappe der Hundigkeit. The antagonism between the visual medium and the text are integral issues of this work. Schmidt's work methods have also been integrated into the images.
… yesterday I saw a nice newsreel where a copying error had slipped in. The speaker was saying, "making an effort …", when the same frames reappeared and the speaker repeated again "making an effort …". Three or four mistakes like this must be smuggled into every newsreel, to interrupt the continuity and make the manipulation visible, to make it recogniz-able as an artificial creation and prevent its being mistaken for reality … film is only free when it replays reality fully, unmanipulated, or when it shows a completely manipulated reality … Cinema is the utopia of a totalitarian society. Be ready for the worst. Enjoy yourself for a few hours and go see a movie … Ernst Schmidt Jr. 1968
Text layer from the Lightbox Sculpture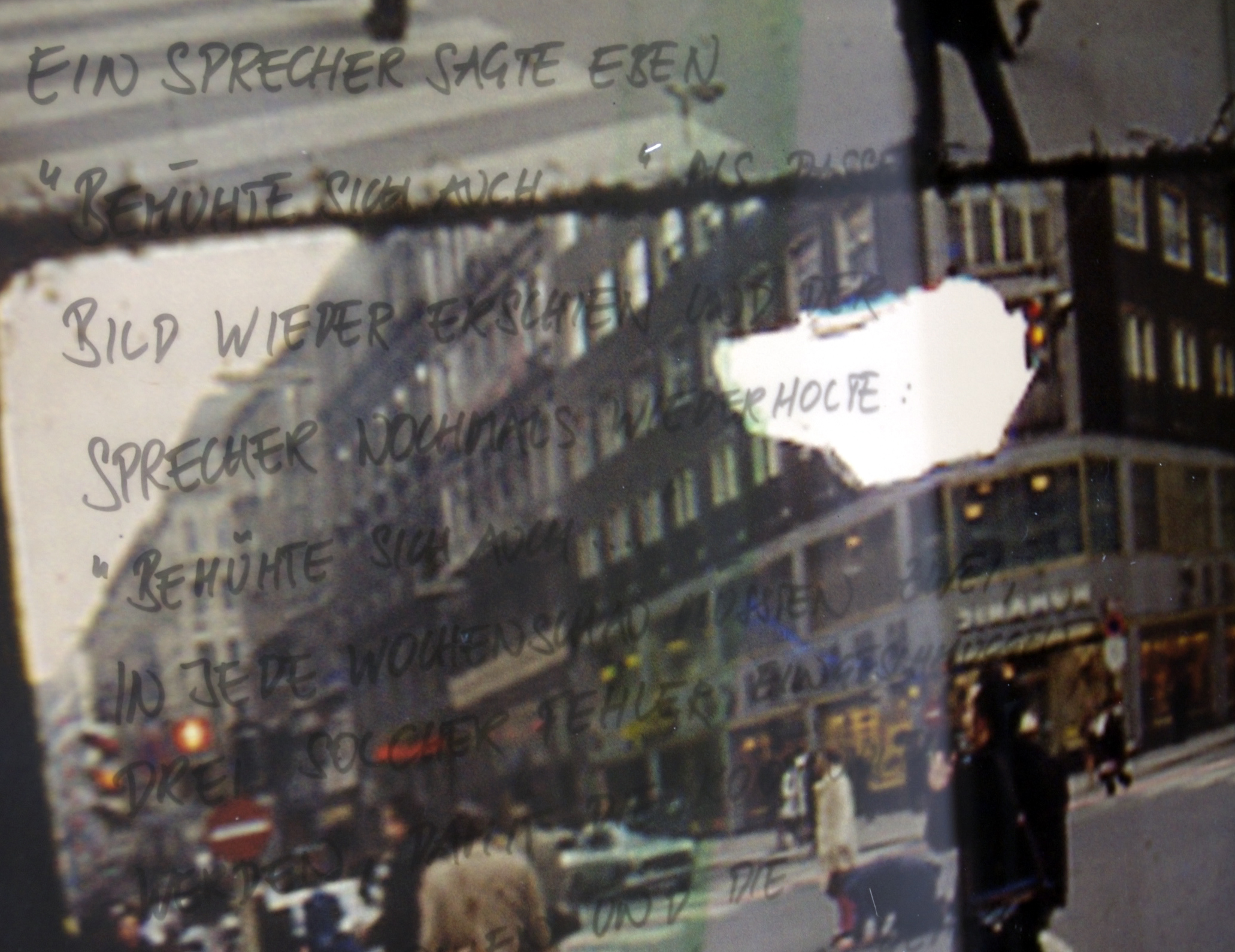 Als eine Hommage an den österreichischen Avantgarde- und Experimentalfilmemacher Ernst Schmidt Jr. entstand dieses Leuchtkastenobjekt. Das Objekt besteht aus zwei Ebenen, einer partiell transparenten Bildebene und einer dahinter liegenden Textebene. Der Text, ein Ausschnitt seiner Abhandlung über die Wirklichkeit in Nachrichten und Film, wird in der Bildebene teilweise von Filmkadern überlagert. Die Bilder stammen aus dem Dokumentationsfilm über VALIE EXPORTs Performance Aus der Mappe der Hundigkeit, mit Peter Weibel von 1969. Das Objekt nimmt auch in seiner formalen Umsetzung Bezug auf die Arbeitsmethoden Ernst Schmidts.
… gestern sah ich eine hübsche Wochenschau in die sich ein Kopierfehler eingeschmuggelt hatte. Der Sprecher sagte eben "bemühte sich auch …", als dasselbe Bild wieder erschien und der Sprecher nochmals wiederholte "bemühte sich auch …". In jeder Wochenschau müßten zwei, drei solcher Fehler ein- geschmuggelt werden, damit die Kontinuität unterbrochen und die Manipulation sichtbar gemacht wird, das Ganze als Künstliches, Gemachtes erkannt werden kann und jede Verwechslung mit der Wirklichkeit verhindert wird … Film ist nur dort frei, wo er völlig unmanipuliert die Wirklichkeit wiedergibt oder eine völlig manipulierte Wirklichkeit zeigt … Kino ist die Utopie einer totalitären Gesellschaft. Man muß auf das Schlimmste gefaßt sein. Machen Sie sich ein paar schöne Stunden und gehen Sie ins Kino … Ernst Schmidt Jr. 1968
Textebene aus dem Leuchtkastenobjekt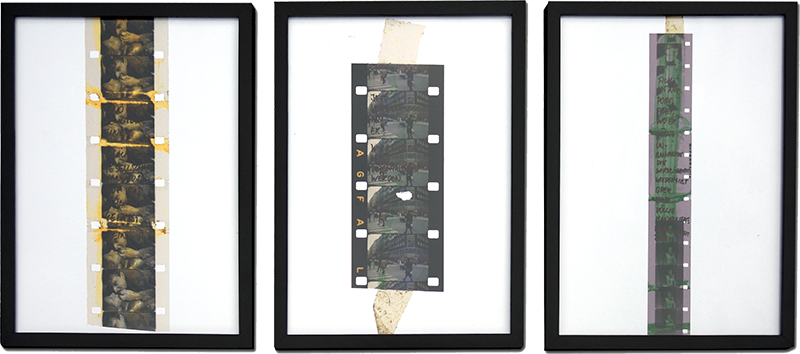 auzinger
Exhibition Destinesia Series Virtual Show Destinesia condenses image information by means of montages and [...]