Interactive Video Installation
Video Projection, Sound
Big Brother" has nested into each and every home, shaped as a monitor. He controls the individual, numbs any ideas, finally bundling all thoughts into a homogoneous mass. Permanently chattering and spewing information, the television image demands sole sovereignty of the house's occupants. But it is not capable of turning off every single cell of free thought –a lone insolent soul sits, immersed in a book. [RB]
You can see a wall-covering video projection as well as a light switch highlighted by a light-bulb on the wall. The endless video-loop shows somebody reading. In a semi-close-up-shot one can see a person – engrossed in his reading. A hissing tv-screen in the background is his only source of light and serves as the readers reading-lamp. If the observer turns on the switch on the wall, the light situation within the projected video changes. The visiter is capable of interacting with the video. S/he can turn the "reading-light-screen" on and off. By pressing this switch in real space, the observer can turn on/off the tv in the video projected and by doing so s/he can take away the readers light. The film material used is a key-scene of Francois Truffauts Fahrenheit 451 from 1966, after a novel by Ray Bradbury, showing Oskar Werner illegally reading a book for the first time.
"Big Brother" hat sich in die Wohnung des Einzelnen in Form eines Monitors eingenistet, kontrolliert das Individuum, betäubt seine Ideen und schaltet schließlich die gebündelten Gedanken gleich. Permanent schwatzend und mit Informationen schießend begehrt das Fernsehbild die alleinige Herrschaft über den Bewohner. Doch es gelingt ihm nicht alle Zellen freien Denkens auszuschalten – aufmüpfig sitzt da jemand und hat sich in ein Buch vertieft. [RB]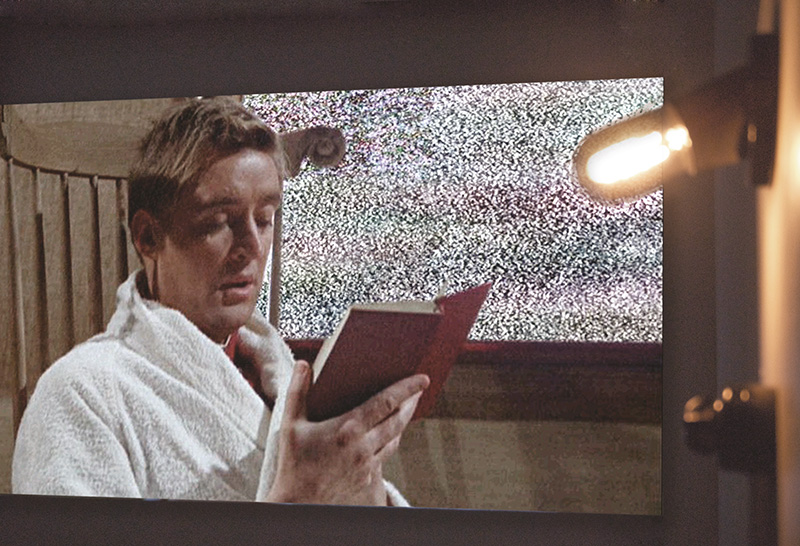 Die Installation Switch Enlightenment besteht aus einer Videoprojektion und einem beleuchteten historischen Lichtschalter an der Wand. Das projizierte Bild der Video- installation zeigt eine sitzende, in seine Literatur vertiefte Person. Ein im Hintergrund rauschender Fernsehbildschirm dient dem Lesenden dabei als Lichtquelle beziehungsweise Leselampe. Betätigt nun der/die BesucherIn den im Austellungsraum befindlichen Lichtschalter, ändert sich die Lichtsituation innerhalb des projizierten Videos. Durch Umlegen des Lichtschalters im realen Raum, kann der/die BetrachterIn den Fernseher im projizierten Videobild abdrehen und somit das zum Lesen notwendige Licht anschalten bzw. abschalten. Bei dem verwendeten Filmmaterial handelt es sich um einen Ausschnitt aus Francois Truffauts Film Fahrenheit 451 aus dem Jahre 1966, nach dem Roman von Ray Bradbury und zeigt Oskar Werner, als er verbotener Weise erstmals ein Buch liest.